We hope eating and drinking will be a pleasurable part of your stay with us.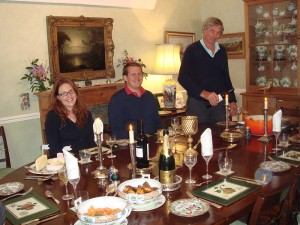 A really delicious home cooked candlelit dinner is available most evenings. We also have a very good wine list and those who enjoy a fine bottle will be spoilt for choice. The list can be emailed to you on request. A selection of reasonably priced house wines are offered in addition from £12.50 – £35.00 and pre dinner drinks of your choice are available too from £4.00. Our cellar keeps the wines in superb condition.
Dinner is generally eaten together in the dining room, or in the warm weather on the terrace.
After dinner, guests can sit and chat over a glass of wine, or relax in the drawing room and enjoy a cup of coffee or tea and maybe a nightcap.
Dinner 4 courses at £35.00 (optional): Dinner can be whatever you want it to be – just let us know when booking what you don't like. We cater for all dietary requirements. I ask all guests in good time what they don't eat, and then make a menu from our own and local organic produce to suit everyone. We discuss the menu at tea time, when, if necessary, we can effect any changes. A two course supper is also available at £20.00
In the morning, guests can indulge in a tasty and satisfying Warwickshire breakfast. Start with a glass of orange juice from real fruit, squeezed by hand just before you drink it, home made museli or cereals, or berries from the garden with organic honey yogurt. This may be followed by a choice of eggs, bacon, sausages, tomatoes, and mushrooms, baked beans, black pudding, and hash browns. Smoked salmon, kippers and kedgeree needs to be ordered in advance. Finally, there is plenty of toast with a good selection of home made jams and marmalades, and of course, the coffee and tea of your choice.
The rich red soil in our organic kitchen garden produces crop after crop of vegetables and fruit all the year round. Nearby are several wonderful farm shops which supplement what can't be grown at home, and where possible local organic produce is sourced. Asparagus and all manner of soft fruit is plentiful round here, nestling as we do close to the bountiful Vale of Evesham. Within three miles is our wonderful first class butcher, Carpenter's Farm Shop. which provides us with a wide variety of local poultry, beef, lamb, pork and game. Limousin and Charolet cattle and sometimes Lancashire Blackface sheep graze here on the farm. At nearby Donnington is our local trout farm with its smokery, and the renowned Dalesford Organics is a local treasure trove for so many things including proper local cheeses, as is Carpenter's, boasting over 50 varieties, mostly local, but much nearer and excellent value.